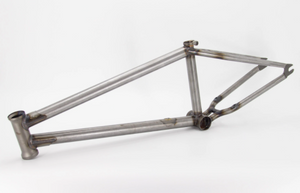 Cult
Cult Walsh Lil Jon frame
Lil Jon Raw with no finish or laquer version of the Corey Walsh signature frame. Both Corey and Lil Jon love to go big. In order to do so they need a vessel that can take the pace. Thats where Corey's frame comes in.
PLEASE NOTE THIS FRAME WILL OXIDISE AND RUST VERY QUICKLY DUE TO THE NATURE OF THE FINISH.
-Top Tube: 21.8".
-BB Height: 11.5".
-BB Type: Mid.
-Standover: 9".
-Brakes: Removable.
-Dropout size: 14mm.
-Head Tube angle: 74.5°.
-Headset type: Integrated.
-Rear end length: 13.8-14.1".
-Seat Tube angle: 71°.
-Colours: Raw -No Finish
-Weight: 5.29lbs.