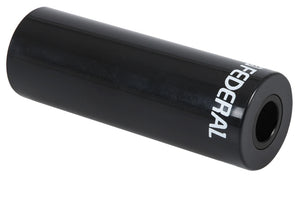 Federal
Federal 4.15" Plastic/Alloy peg Black 14mm (each)
These pegs have been designed to make the outside diameter similar to that of a regular steel peg. The plastic sleeve has been designed to be slightly shorter than the 6061 Aluminium core so if your pegs hit the ground hard it won't damage the sleeve. The sleeve is manufactured from a hard wearing nylon to help make grinds fast and controlled.
Please note: Due to the core being alloy these pegs are recommended for park and light street use. For really heavy street abuse we would suggest you use the Federal plastic pegs with Chromoly core.
Pegs are drilled for 14mm but include an adaptor washer for use on 10mm axles.
Replacement plastic sleeves are available separately.
---
More from this collection