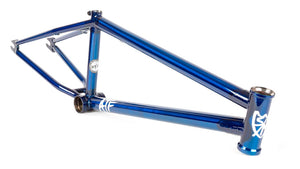 S&M
S&M ATF 22" Wheel Frame Trans Blue
This is the base model most of our pro signature frames have started from for awhile now. Its also the basic custom frame most of the employees here ride. Its a little stronger and heavier than some of the frames on the market but its what people that really ride want. Stylish classic and burly all rolled up into one.
TOP TUBE LENGTHS: 21.625" 22.125"
REAR END LENGTH: 14.1"
HEAD TUBE ANGLE: 74.25°
STANDOVER HEIGHT: 9"
BOTTOM BRACKET HEIGHT: 12.25"
SEAT TUBE ANGLE: 71°
HEAD TUBE: Integrated Campy Style
BOTTOM BRACKET STYLE: Mid
BRAKE MOUNTS: Thread-On (sold separately)
DROPOUTS: 14mm
SEAT POST SIZE: 1" / 25.4mm
WEIGHT: 5.29 lbs.